Unsung Heroes: Football and the Polynesian Athlete explores the unique relationship between Polynesians and the game of football. Inspired by the culture's emphasis on family, this short film examines the incredible journey many Polynesians have made from the Islands in search of new opportunity and to celebrate all they have contributed to the country's most popular sport.
We congratulate Future For Football on this outstanding documentary.The Polynesian Football Hall of Fame
Other Reviews: 
A wonderful documentary on Polynesians in American football. We cannot recommend it enough.Roll 'Bama Roll, SB Nation
Unsung Heroes tells the amazing story of the connection between Polynesia and football.Samoa News
This American football documentary celebrates Polynesian influence.Samoa Observer
Unsung Heroes shows that family, respect, and purpose represent the main causes for the culture's achievement in the sport.Against All Enemies, SB Nation
---
Awards: 
Official Selection, 2019 Maui Film Festival; 2019 Gold Telly Award Winner, General: Sports; 2019 Gold Telly Award Winner, Documentary; 2019 Silver Telly Award Winner, Media and Entertainment; 2019 Silver Telly Award Winner, Social Video: Sports and Leisure; 2019 Silver Telly Award Winner, Online: Sports; 2019 Silver Telly Award Winner, Documentary: Individual; 2019 People's Telly Award Winner, Non-Broadcast Production; 2019 Hermes Platinum Award Winner, Documentary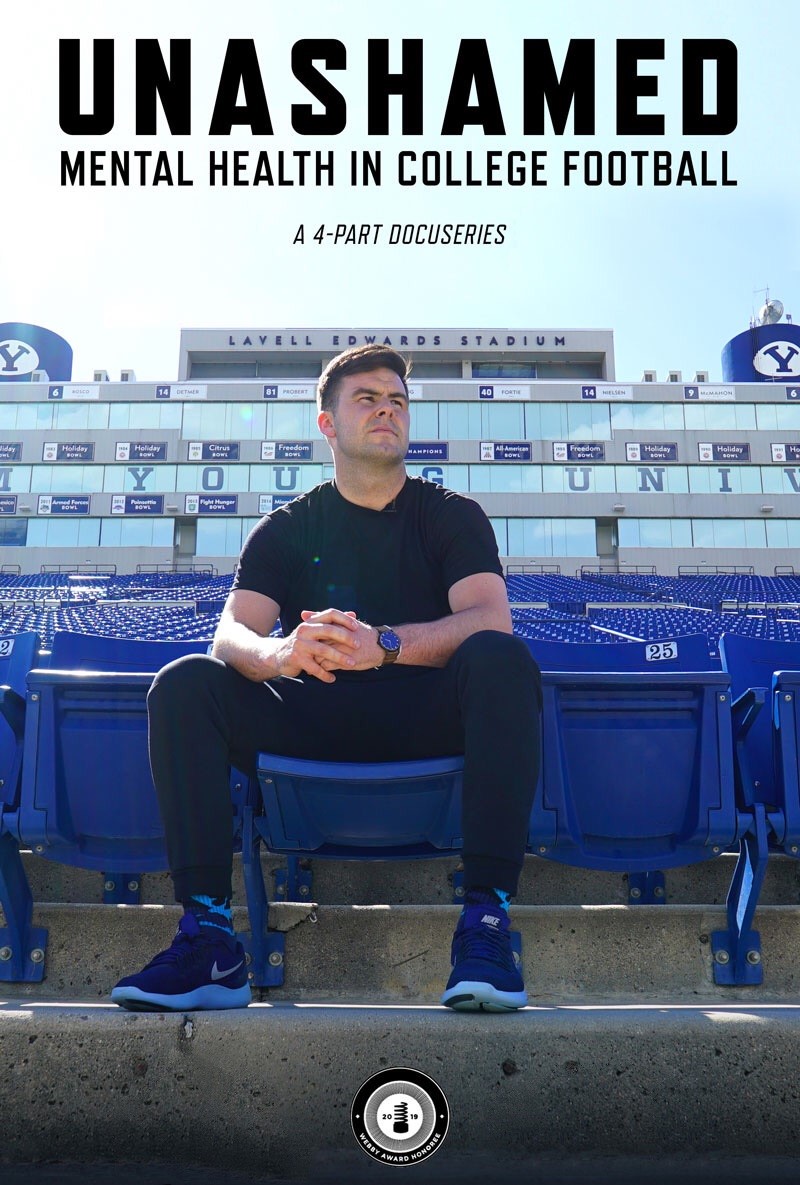 Unashamed: Mental Health in College Football is a four-part docuseries spotlighting how college football programs are working to emphasize the importance of mental health wellbeing. Led by the narrative of BYU quarterback Tanner Mangum, who himself has been candid about his own mental health journey, the series features coaches and athletes openly discussing mental health well-being, the stressors of their environment, and the steps being taken to preemptively address these issues.
Because of Future For Football, the stigma surrounding mental health is being broken down. I'm honored to play a role in it.Tanner Mangum, BYU Quarterback
Other Reviews:
Many know Tanner Mangum for his accomplishments on the football field, but he has also been an advocate and inspiration to many about mental health awareness. His latest venture comes as the centerpiece of a mini-series that dives into football players and mental health.Vanquish the Foe, SB Nation
He battled depression. Now fighting stigma around mental health is BYU QB's 'passion.'Idaho Statesman
---
Awards:
2019 Webby Award Honoree, Public Service and Activism; 2019 Sports College Media Awards Honorable Mention, Special Programming; 2019 Silver Telly Award, Documentary Series; 2019 Bronze Telly Award, Social Video: Sports and Leisure; 2019 Bronze Telly Award, General Video: Sports; 2019 Bronze Telly Award, Series: Non-scripted/Documentary; 2019 Hermes Platinum Award Winner, Documentary